One of the largest and longest established Accountancy Practices in the South East. We are dedicated to working closely with our clients, to building long term relationships and delivering a professional multi-disciplined service.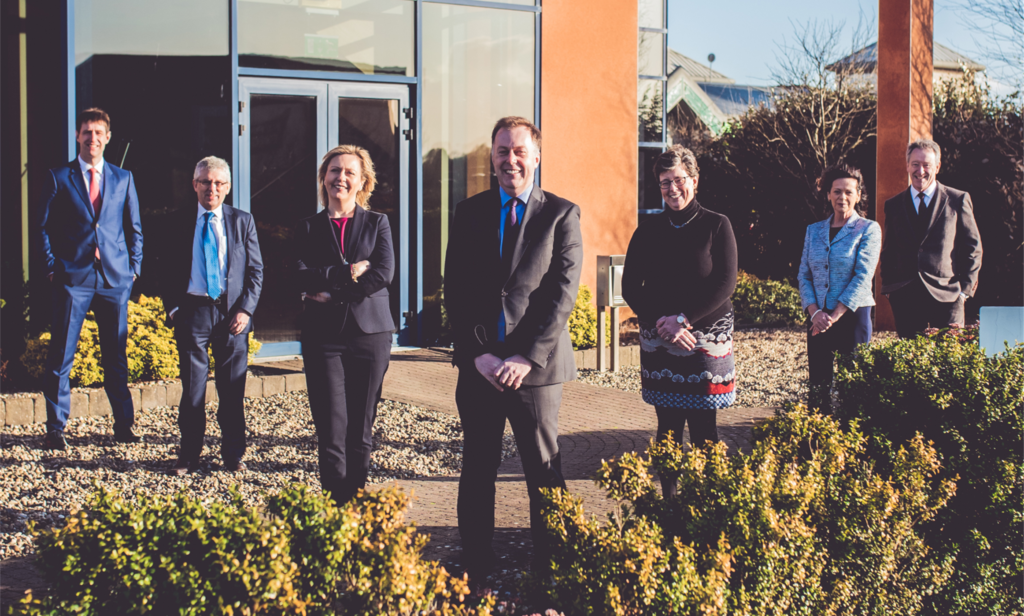 At Sheil Kinnear, we are very proud of the large number of success stories that the firm has had over the years, with numerous clients commencing their business journey with us and going from small beginnings to very profitable enterprises.
We are large enough to handle the most complex cases
yet small enough to give you and your business the personal attention required.
Sheil Kinnear was founded in the 19th Century by Joseph Lawton, with the firm taking its current form following a merger between Mr. Jimmy Sheil's firm and J.A. Kinnear & Co in 1969. The firm is one of the oldest practices in the country and has stood the test of time through various economic peaks and troughs. The firm has its headquarters in a 6,000 square foot office in Sinnottstown Business Park, Drinagh, Wexford with offices in Enniscorthy and Arklow. Sheil Kinnear is an active member of the Charter Group, a network of ten chartered accountancy firms located nationwide. On the 9th of September 2019, O' Gorman Cosgrave merged with Sheil Kinnear to create one of the largest accountancy practices in the South East.
Testimonials
"Sheil Kinnear acted for my father Gerry McCauley since he established the initial family chemist shop in Enniscorthy in 1953 and subsequently for myself and my wife Leslie when we acquired the business in 1983. They have been an invaluable support ever since and as trusted advisers and auditors were an integral part of our support team in growing and expanding the business to 30 pharmacies. They excelled in providing a prompt and professional service at all times right up to the successful sale of a majority stake in the business in 2017 and continue to provide me with financial management services subsequent to the sale. I have always valued the support and advice they have given me on my business journey."
Sam McCauley
"Sheil Kinnear have been professional advisers and auditors to Wexford Farmers Co-op over a long number of years and during that time have expertly advised and guided us through mergers, acquisitions and re-structure. We have found Sheil Kinnear to be very diligent and professional in their engagement with us and in addition to our annual audit they continue to provide us with guidance and advice on a range of matters including Banking, Taxation and Secretarial compliance issues. "
Frank Devoy – Wexford Farmers' Co-Op
"For me I always appreciated your mentoring support when we started up and did not have any money or turnover. You really helped us get our cashflow statements together as well as getting us to a stage of being CRO compliant and doing annual accounts. We were able to get support on all our tax, VAT and reporting requirements. Even for attaining an overdraft facility from AIB when banks had stopped lending money. Your presence and referral in that meeting added a lot of credibility that definitely helped us secure that overdraft which was important to us at the time. I know that you went above and beyond the call of duty. Since then our scale in size has been no problem for you guys, you have been able to support us now as a $50m company. You have been great in helping us on the recruitment and replacement side too and are always available by phone or email at any time of the day or night. Even if it is a question about personal taxes or compliance you're happy to help."
Dermot O'Shea – Taoglas
"We have engaged the services of Sheil Kinnear on audit, tax, statutory and related issues for over 25 years. The overall level of service provided is consistently top class, in terms of their in-depth knowledge, the quality and clarity of advice and their speed of response."
Kieran Noonan – Noonan Construction Group
"When we set up DoneDeal we needed a skilful financial company to help us manage the growth. Sheil Kinnear was a great support from the start. They provided timely and professional services as well as insightful and competent advice. They were also a great resource when we sold the business. We are very happy to recommend their services."
Fred & Geraldine Karlsson – Founders of Done Deal